We are committed to offering a comprehensive service for our cattle clients, whether they have five hundred cows or just five.
We tailor our approach for every farm we look after and believe that routine farm visits are a crucial part of effective consultancy.
We always have two of our own vets on duty, ensuring all emergencies are seen by a familiar vet with direct access to your farm's history.
We are proud to support the farming community and regularly hold farmers' meetings, benchmarking groups and training days to help our clients stay in the know.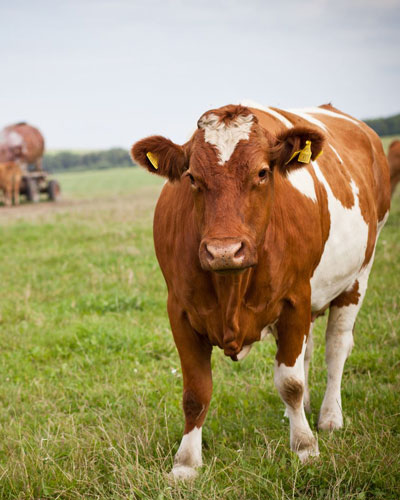 Our services
Routine and ad hoc fertility visits
Ultrasound scanning for pregnancy diagnosis.
Fertility monitoring with Vet Impress and TotalVet
Mastitis and cell count control plans (Dairy Co. Mastitis Control Plan providers)
Mobility scoring (AHDB mobility mentors)
Cattle Health Certification Scheme (CHeCs) monitoring
Bespoke herd health planning
Infectious disease control programmes
Metabolic monitoring, trace element screens and nutritional advice.
In-house faecal egg counts and parasite control programmes
We do not charge a fee to visit our clients' farms within a radius of 30 miles from our surgery in Easingwold. Our charges are usually based on time spent on the farm – we do not charge for telephone advice.
Medicine and farm supplies delivered to you
Getting off the farm to pick up medicines and farm supplies can be time consuming, so we will arrange to deliver to you, no matter where your farm is. We can deliver medicines and vaccines directly to your farm on a weekly basis and supply a complete range of animal health supplies in addition to the usual range of medical products you would expect from your vet.
If you're local, our warehouse, dispensary and farm supplies shop in Easingwold stocks a huge range of medicines and agricultural supplies so you can pick up everything you need in one place. You don't have to be a client to use the shop, you can just walk in.