We look after commercial poultry farms in Yorkshire, Lincolnshire, Lancashire, Derbyshire and Scotland. We take pride in giving a personal service to every farm we look after and believe that farm visits are a crucial part of effective consultancy.
We purchase vaccines in bulk to mitigate against production shortcomings and lack of supplies; our prices are very competitive.
Clients can drop off samples at our practice in Easingwold for post-mortem examinations, faecal worm egg and coccidial oocyst counts, enabling effective treatment to be started promptly pending further diagnostic tests.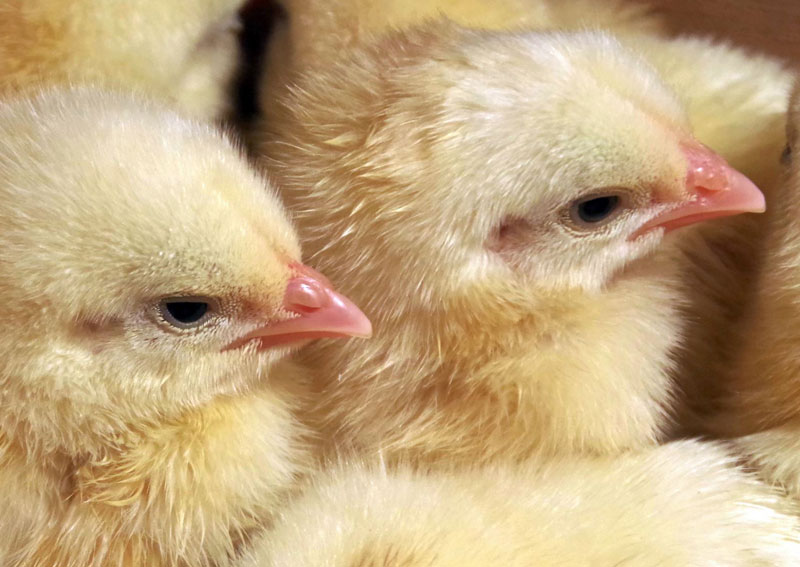 Our services
Health planning and consultancy (broilers, layers, turkeys, game birds and water fowl)
Laboratory testing (Salmonella NPC, TVCs, serology, water testing)
Post-mortem examinations on farm
A dedicated poultry post-mortem room
In house bacteriology and sensitivity
Biosecurity audits and advice
Medicine and farm supplies delivered to you
Getting off the farm to pick up medicines and farm supplies can be time consuming, so we will arrange to deliver to you, no matter where your farm is. We can deliver medicines and vaccines directly to your farm on a weekly basis and supply a complete range of animal health supplies in addition to the usual range of medical products you would expect from your vet.
If you're local, our warehouse, dispensary and farm supplies shop in Easingwold stocks a huge range of medicines and agricultural supplies so you can pick up everything you need in one place. You don't have to be a client to use the shop, you can just walk in.